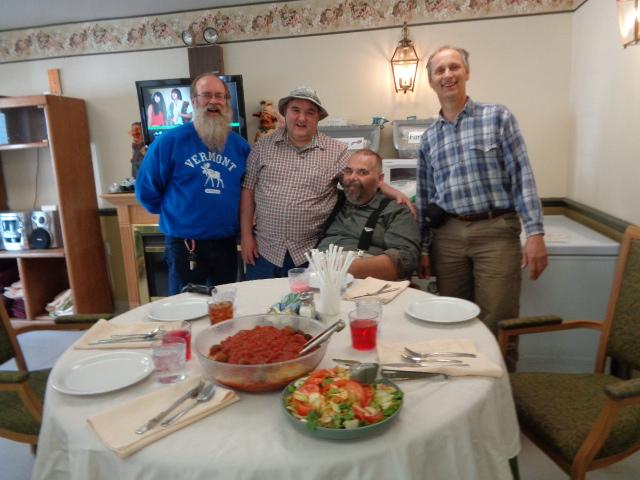 It is written:
"The Lord your God is with you, he is mighty to save. He will take great delight in you, he will quiet you with his love, he will rejoice over you with singing." -Zephaniah 3:17
(Pictured left to right) Pastor Phil, Dan, Bob, Tom
Leicester Church of the Nazarene
39 Windy Knoll Lane
Leicester, VT 05733
Parsonage 802-247-8879
Office: 802-247-8428
Sunday Activities:
10:00 am Adult, teen and children Bible Study
11:00 am Spirit filled Worship Service
All week (Monday- Saturday) 8am- 9:30 non-structured fellowship with coffee and daily treats! Prayer support too! If you would like a home Bible study or other help, please feel free to email us. >>>
"Wednesday activities at the Church are currently on hold; however, we are meeting in homes at irregular times- email us (Need Prayer?) at right." -Tom
.
See other special activity listed on the "Events" page. ANY CANCELLATIONS WILL BE LISTED HERE.
Find us on Facebook:
It

is written: "This is a faithful saying, and worthy of all acceptance, that Christ Jesus came into the world to save sinners; of whom I am chief." -
1 Timothy 1:15
"No one who is born of God will continue to sin, because God's seed remains in him; he cannot go on sinning, because he has been born of God."
– 1 John 3:9
​

We pray for one another, we share our gifts of "helps" to each other, and, yes, we have fun together. We are family in Christ Jesus!